A personal solution to your electronic wiring needs
About Aragon Services
Established in 1979 on the south coast of England, relocating in 2000 to the university town of Aberystwyth, Aragon Services Ltd and proprietor Chris Vicary has amassed over 30 year's experience in the electronics industry, specializing in projects and systems for the M.O.D & Military markets.
As a specialist electronics solution provider, we can offer expertise and a wealth of knowledge in many areas of the electronics industry, including: M.O.D / Military, Aerospace, Telecommunications, Marine, Oil and Semi-conductor markets.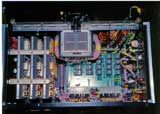 Aragon Services offers a comprehensive sub-contract assembly service, fulfilling small to medium contract requirements for all clients both large and small. We have a dedicated team working to provide a professional and efficient service offering continuity coupled with an extremely high build quality. We can also offer a uniquely flexible service (which suits many of our clients) working at our own premises or 'on site' at our clients request, as we appreciate the complexity and sensitive nature of certain projects and build requirements.
All of our builds are carried out manually to exacting standards, from a simple cable assembly to a complete complex A.T.E system, prototype to Production.
We can supply and build to your designer/engineers information, equally we are happy to build with 'free-issued' components... Your products put together with TLC.